These are the 10 decor trends that are going to be popular in 2018.
1. Natural Accents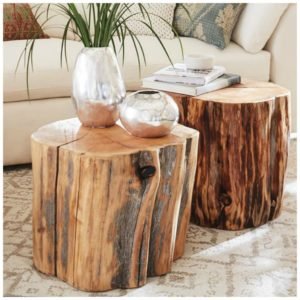 And the natural look doesn't stop at stone. Liess is loving decorative objects made of wood and other earthy materials.
2. Pink, purple… Lavender

"Millennial pink is still around and I still love it, but it's morphing into lavender and lilac," says Nancy Fire, creative director of HGTV HOME, Design Works International and Studio NYC Design. "People were sarcastic about millennial pink at the beginning, but it's being used to bring out beautiful, soft tones with accents that are deeper."
3. All-White Kitchens
We said it this fall and we'll say it again: All-white interiors are on their way out. Kitchens in particular will continue to brighten up in the new year, swapping stark white for warm wood tones and new neutrals including cream, blue, and gray touches.
4. Circle Patterns
"Hard geometrics are going to be huge, and I think circles are the new triangle," says Genevieve Gorder, a designer on the upcoming Trading Spaces reboot and spokesperson for Air Wick limited edition seasonal scents. You can start small with accent pillows or dive in with graphic wallpaper.
5. Shapely Furniture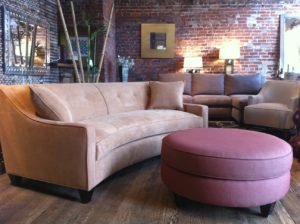 Couches will take cues from the '70s this season, with quirky curves that liven up your living room. We spotted this shapely silhouette at CB2's spring preview, and architect Elizabeth Roberts endorsed the idea in an interview.
6. Mixed Metallics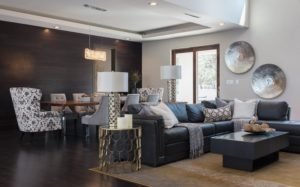 We're looking at our stainless steel kitchens through rose-gold glasses — or something like that.  "mixed metals" is going to be a must!
7. Statement Ceilings
2018 is looking up — or, at least, the statement ceiling trends is. Where you choose paint, wallpaper, or intricate textures, you might want to pay a little more attention to your ceiling.
8. Brass Accents
"We're getting away from the brushed silver and we're moving into those golden brass tones that are warm and subtle," says Doug Wilson, a designer on the upcoming Trading Spaces reboot. "It's a nice substitute for the stainless steel that's expected and pedestrian at this point."
9. Floral Patterns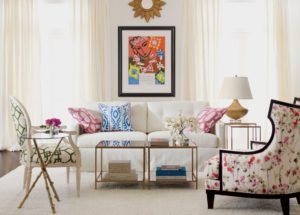 "I love the resurgence on the feminine side of the big beautiful florals. It's coming from a boho trend that's more causal," says Fire. Another favorite pattern of hers is geometric shapes, especially on wallpaper.
10. Bar Carts
What the Experts Are Saying: "While perfectly staged bar carts look beautiful, they often go unused on a daily basis, taking up space and collecting dust. Instead, experts predict a shift towards coffee carts, which can be equally trendy, but far more practical."