Acapulco was the place to be in the 50's. Home to Mexican artists and a resting place for Hollywood stars. But it was also the birthplace of a chair that is now emblematic of Mexican culture, the "Acapulco" chair.
We are talking about the Acapulco chair. It is not known for sure who designed this emblematic chair. What we do know is that Don Jose Cortes was the first to produce it on a large scale for sale. The chair has a radial design and a curvature that allows a permeable and refreshing effect.
Originally from Acapulco, Don Jose Cortes fabricated the chair from a metal frame with an electrostatic matte finish and pastel-colored seats from a particular Mayan weave. The chair's cords are made of PVC, making this an ergonomic design and a reflection of the relaxed life offered by the port of Acapulco.
The tourist development of Acapulco in the 60's brought the Acapulco chair as a main decorative element. This peculiar chair could be seen on every hotel balcony. The fashion of the emblematic chair was transferred to the homes and businesses of Acapulqueños.
During the '60s and 70's, it was the most demanded piece of furniture in the port. From then on, its success spread throughout the country, becoming one of the favorite pieces of furniture of the Mexican people.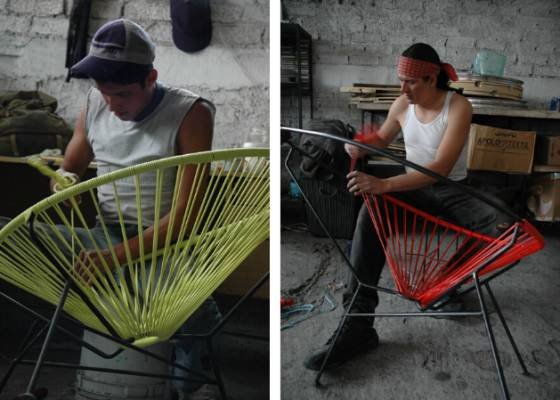 The furniture is made from a solid steel skeleton in a matte black finish, which will hold the PVC fabric. A spool of this thread is manually interwoven to the periphery of the steel structure.
A manual weaving, based on the tension between the spool and the structure, imitates the ancient tension finish of the Mayan looms.
After gradually disappearing from the market in the last decade of the 20th century and the first decade of the 21st century, the Acapulco Chair, thanks to stable production, is back with its classic image and other new design proposals. Winners of multiple design awards, made by the original brand and crafted by Mexican artisans who continue the legend of this traditional beach furniture.