Playabuilder built this beautiful Spanish Colonial Style house a meer 5 mins north of the Playa del Carmen city centre.
The American couple Meredith and Steve, owners of the house, were inspired by the idea of having a house with Spanish design but at the same time with a Mexican modern style. This is why the front of the house was implemented with decorative elements such as moldings and pergolas in tzalam wood.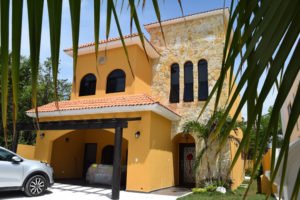 The project consists of a kitchen, dinning room and a living room with an open concept, 3 bedrooms, 3 ½  bathrooms, an office, laundry, storage area, terrace, gardens and pool with solarium. Construction area size 222 m2.
The project started in November 2016 and was developed in 4 stages: Preliminary, Structure, Installations and Finishes.
The first Preliminary stage, consisted of a topographic study of the lot, which indicated the level of the foundation and defined the type of structure that was needed.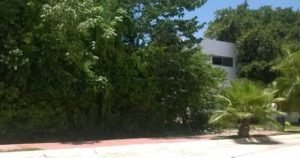 Later the selection of trees and shrubs along with the measurements designated in the architectural plans were confirmed. The area was cleaned and prepared for the beginning of construction.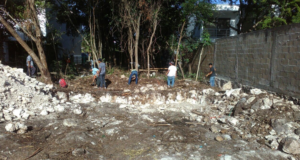 For the Structural stage, we had the foundations ready, at this moment they started raising the walls, planning doors, windows, rustic floors and the roofing.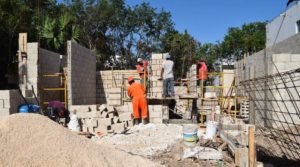 This part of the project is where the rapidity of the construction was perceived, since in this moment it was possible to observe and have an exact idea of the functioning of the house.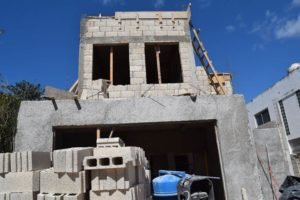 During the Installation and finishing stages, we prepared all the electrical and sanitary installations and immediately the placement of tiles. For Casa La Catrina, we used earth tonalities, wood in dark coffee color and we installed gold colored stone in the front and back.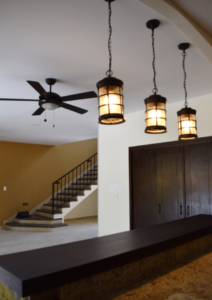 The accent lights were made out of iron and a soft yellow element installed. For the remaining lights chrome was used alongside a white element. The mixture of these two designs helped to achieve the desired effect of a rustic Spanish yet modern style.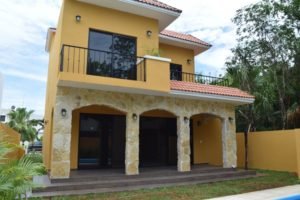 The design and construction team at Playabuilder feels proud to deliver a home knowing we more than exceeded the clients expectations in terms of construction quality and delivery time.