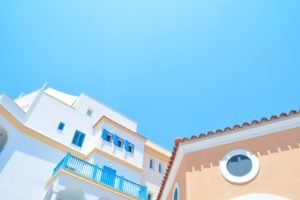 Construction in the Riviera Maya is one of the fastest growing industries in the state of Quintana Roo. This is why many options have begun to be developed, such as Playa del Carmen, Akumal, Puerto Aventuras and Tulum. Each development offers different amenities but they all have one thing in common: There are certain obstacles and challenges that must be considered before starting the construction of a house. Let us remember that there are many details that are not present in other parts of the world such as humidity, salt in the environment and heat that can be very strong. How are we going to build a house capable of withstanding these adversities?
Climate requires different building materials
The climate is one of the most attractive aspects for people looking to invest in real estate: the Riviera Maya has a climate above 30°C most of the year and the jungle ecosystem represents quite high humidity. However, this means that it should not be built as it is in the rest of Mexico, it is important to use materials that do not allow the accumulation of moisture such as waterproof paint and seasoned wood. It is also necessary to optimize the design of the house so that it does not wear out over time.

Is there a risk of hurricanes in the Riviera Maya?
Coastal areas are no strangers to natural disasters, in this case it is important to consider the presence of hurricanes, these can form on any coast of Mexico, the season runs from June to November. It's a good idea to think about this before construction begins to incorporate elements that protect your property from flooding and wind-driven objects.
Fortunately, there is already a technology in Playa del Carmen that combines efficiency, affordability and ease of maintenance and installation, exceling traditional hurricane shutters: Hurricane Fabric. You can continue reading about this technology at hurricanesolution.com, who are the official distributors of some of the largest hotels in Playa del Carmen.
The water and drainage are also different here…
The Riviera Maya is relatively young, it is an area that only recently began to develop touristically. Formerly, the drainage of the house was connected to the water table directly, it is a practice that is in the process of being corrected but must be considered before starting construction. By good luck, there are options for functional and ecological drainage, it is also possible to assemble a water purification system so that your tap water is drinkable!
Smart architecture: Eco-friendly is more than a trend
We must take advantage of the place where we live and we can be creative when designing a house. In this way we can save electricity with spaces that optimize sunlight, ventilated areas that allow the flow of air currents and plenty of shade in outdoor areas. Let's also think about designated spaces for plants and trees, ecological constructions bring long-term benefits.
Lots of accessibility for a growing area
The urban development in Riviera Maya is still in very early stages, but we can already see a very intelligent and dynamic projection: it is quite easy to navigate the area, identify streets and move from one place to another either by car or public transport. When you design a house, think about the way you are going to transport yourself. Will you have your own car? Will you use public transportation? Maybe you need a bigger parking lot or even looking for a better located piece of land, it is worth thinking about this in advance so that your house is always well integrated into urban growth, which is one of the fastest in the world.
Now that we are aware of these very particular situations about construction in the Riviera Maya, who can we turn to for a construction capable of resolving these obstacles? Playabuilder is a local company with more than 10 years building world class homes in Playa del Carmen and Riviera Maya. Visit Playabuilder to get the best advice and construction service.