Just as walls, ceilings, and furniture define the character and perception of an architectural project, doors play a fundamental role in the construction of that style. Among all the doors of a house, the front door is the first tangible element that owners and visitors perceive, acting as the point of union between architecture and user.
After all, the first impression is key; and the front door is certainly one that sets the tone for the rest of the interior. However, choosing the front door for a contemporary home can be difficult, especially with so many design possibilities. Therefore, before making the decision, it is critical to explore those possibilities – and how they can transform the front door into a powerful design element.
With this in mind, we have defined four factors to consider when selecting an entry door: material, style, color, and size. To inspire homeowners and architects, we present these through a compilation of remarkable and unique doors from modern homes.
Various material possibilities
Wood
When selecting the entrance door, one of the first steps is to define the materials that best complement the architecture of the house. Today, wood remains the classic choice for its versatility, timelessness, and warm, nature-inspired appearance. It can be used in a wide variety of formats, finishes, and styles; from a rustic feel with a raw wood plank, to an elegant look with a smooth finish. Although the material tends to expand and contract naturally with changes in temperature, wood front doors can be very durable thanks to advances in manufacturing and routine maintenance. Thus, they can maintain their elegant and comforting aesthetic that is second to none.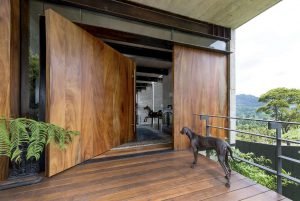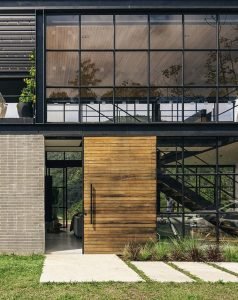 Glass
When it comes to prioritizing views and light, glass and fiberglass doors are ideal – and they are certainly growing in popularity in modern residential entryways. Usually combined with steel frames, they illuminate interior spaces with natural light while conveying a sleek, contemporary look. At the same time, by eliminating the visual boundary between outside and inside, glazed doors frame the interior and the surrounding landscape like a work of art. In addition to being durable and easy to clean, the material can be colored, reflective or opaque, creating privacy while keeping light in. For security reasons, it can be reinforced with window film, laminated safety glass, or polycarbonate sheeting.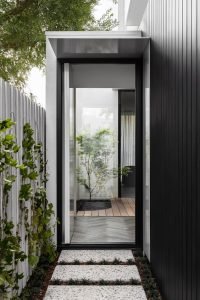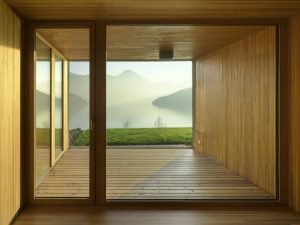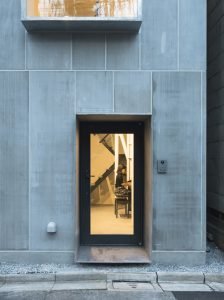 Steel
On the other hand, steel is often considered the most versatile and cost-effective material for main doors, as it offers more design flexibility and durability compared to glass and wood. Steel doors do not expand or contract, are resistant to various weather conditions, and insulate effectively. While they can be painted or mimic other materials with decorative panels, rust-finished "raw" steel doors can be very aesthetically appealing, especially for creating a modernized industrial look.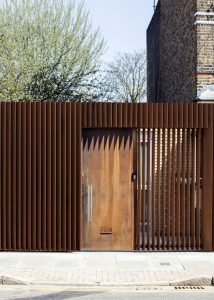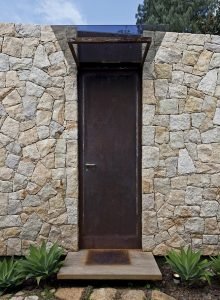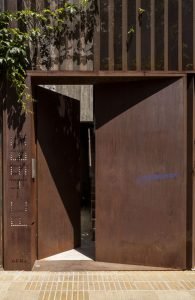 Different styles of movement
Pivoting
In addition to their aesthetic value, entrance doors must allow the efficient movement of people and objects. Beyond the standard one-hinge door that swings in or out, there are other types of innovative openings. When it comes to making a powerful design statement, pivot doors are ideal for modern homes. Essentially, a pivot door pivots around a vertical axis, generating a freely moving canvas. They can be made of various materials – such as marble, glass, wood, or metal – and offer flexibility in terms of dimensions and weight. Thus, with innovative technologies and simple installation, a pivot door provides functionality and endless design possibilities, creating a grand and elegant entrance.
Double
Commonly known as French doors, double doors can also create a spacious and attractive entryway. While standard doors are perfectly functional, you need to consider the advantages of including a double front door. First, these create a wider entryway that can be useful for entertaining or moving furniture, giving a welcoming feel to a large home and a sense of openness to a smaller one. Of course, larger space also means more sunlight coming in and better views when the door is open. Since double doors are nothing more than a pair of traditional doors that can be opened simultaneously, installation is simple and there is a wide range of materials available.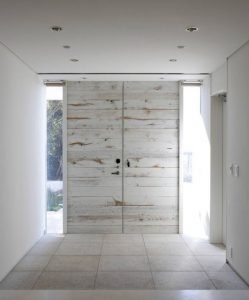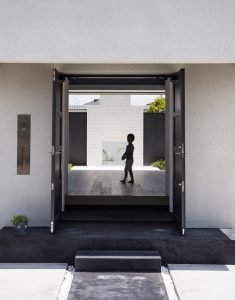 Giant doors for grand entrances
The size of a front door is usually limited by the home's frame, and standard doors are typically no taller than 203 cm. But as architects and homeowners increasingly prioritize large hallways, high ceilings, oversized entry doors have become a design trend, dominating the architectural market. Although giant doors imply a higher investment, they automatically make homes look larger, generating a strong and eye-catching first impression.
Therefore, to achieve that modern and elegant look, an oversized door is certainly an ideal complement.  Should therefore be considered when designing the entrance of a contemporary home.