Living in a small space can be quite a challenge! If you're anrtist like me who is constantly creating something, the stuff has acumulated can make you feel quite claustrophobic. Over the course of a year I've finally learned how to manage my space and all my stuff!
The first thing to do is to let go of unnecessary items. If there is something in storage that you haven't used in six months to a year, you probably won't use it again. Also, a good place to check is your closet. Go through each piece of clothing and if you haven't worn it in the past year, it's time to get rid of it. The best thing to do is to donate the goods to your local charity. There are plenty of unfortunate people out there who would treasure what you consider trash!
Now it's time to tackle the stuff that you do have. When living in a small space, it's all about storage. Consider multi-function furniture such as chests and ottomans that are useful for storage of blankets and clothes and can be used as tables or seats. A futon can serve as a couch during the day and a bed at night. With the things that you do have, it's best to try and store as much as possible as to make the room appear uncluttered. Less is definitely more in the case of small space living.
On the same note, bigger is also better. Small furniture does not make the room appear bigger. Rather, larger, bolder pieces of furniture draw the eye to them creating the illusion of a bigger room.
Create a wall of shelving to put books, magazines, and knick knacks. Grouping most of your belongings in one place rather than scattered all around the room frees up space to move around. Place baskets on the shelves for stray items and papers. Baskets can also be used to hold magazines and placed next to the couch or a chair.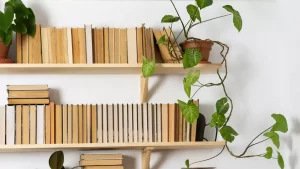 Light is important in a small room. Try hanging a big mirror opposite the window(s) to reflect light into the room. Also, try to keep the fabrics used in the room a light color. In my studio I use a beige colored slipcover over my futon which I then cover with different colored pillows. Remember that dark colors absorb light and light colors reflect light.
You can divide space in a room by using screens or bookcases. Screens or bookshelves can be inexpensively made by purchasing wood at your local hardware or home store. They can be covered with fabric or painted to add a personal touch. Area rugs are also a good way to create division in a room.
With a little creativity you can make living in a small space as comfortable as living in a castle!