Homeworking is a trend that, since the onset of the COVID-19 pandemic, has had to be adopted by numerous companies. This modality allows teams to continue working without putting themselves at risk, but has pushed many to have a space at home; however, it becomes counterproductive if it's not properly planned.
It is important to know that office and corporate workspaces are designed to get the most productivity from employees, and when moving the work model to homes, there are obstacles such as lack of light or adequate furniture that harm workers. But don't worry, we have listed a series of tips that will help you create a better work environment at home in the simplest way, so keep reading.
Choose the best furniture
For a start, the choice of furniture for your work area is extremely significant. So if you have the possibility to invest in new furniture, an ergonomic chair, and an adjustable desk will be your best allies to maintain your correct posture during long periods of work. If you can't afford new furniture for work at home, make sure you find the most suitable furniture in your home, such as chairs with full-backs or tables that are at your eye level.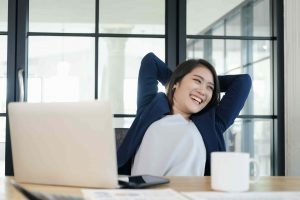 Do not forget the use of color
Colors play an important role in the ambiance of home spaces, and the work area is no exception. If you are changing the color of your workspace at home, you can opt for gray or neutral tones to avoid distractions. However, if you are a color lover you can also use soft shades such as blue, pink, and beige.
Relax your body to work better
If you want to get the most out of your working hours, you will need to take short breaks where you focus on relaxing your body. You can invest in a humidifier with essential oils to help you relax, or a foot or back massager. This will help you relax the muscles in your body and work better. You can also do routines that allow you to stretch your back, wrists, fingers, arms, and neck.
You may also like: What is the best patio furniture for your Riviera Maya home? 
Use light to your advantage
Light is the most important factor in any interior space and in your workspace, it is absolutely essential that you use the right lighting to brighten your work and prevent damage to your eyesight. Incandescent light will reduce your visual acuity, so it is advisable to work using natural light and if this is not possible it is advisable to invest in lighting that simulates natural light.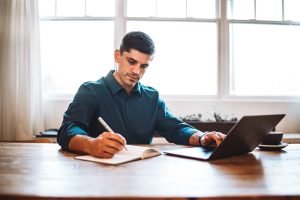 Keep everything on hand
One tip that will help you stay motivated while working at home is to keep everything you need close at hand. This will help you avoid having to get up from your place to get something. You can install small drawers or pencil cases on your desk to make sure you have everything in its place before you start your workday.
Working at home has become the new standard model of work in many countries, so follow these tips and transform your spaces, so you don't lose motivation during this new normal.