Have you noticed that every year there are colors that dominate in all aspects of design? The Pantone company annually decides the shades that will define the coming year, whether in interior design, architecture, graphics, or fashion. 
But this does not happen randomly, there is a team of color experts behind every decision made by the world's color authority. 
Pantone itself is an American company, founded in the 1960s, which created the Pantone Matching System, a system that identifies colors for printing by means of codes. 
Although Pantone has become the paradigm of color palettes and has been functioning as a universal color identification system for more than half a century, it was not until the year 2000 that it began to proclaim the color of the year.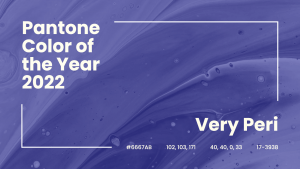 Who and Why?
There have been all kinds of theories about who they are and how they decide the color of the year; from top-secret meetings worthy of a spy movie to the wild hypothesis that it is chosen at random after having emptied the contents of some bottles of alcohol.
But the truth is that those who decide the trends that will rule the world of color for a year have names and surnames and go through a long process of work to make this decision.
In total, 40 experts from around the world, including Leatrice Eiseman, executive director of the Pantone Color Institute, Laurie Pressman, vice president of the Pantone Color Institute, and David Shah, color consultant, among others, decide the color trend dictated by Pantone. To do so, they carry out an arduous task of observation and research that goes far beyond art and design. 
The Pantone of the year is marked by cinema and fashion, but also by social movements, political changes, and global events that mark the international evolution.
The decision to select a particular color from Pantone's vast palette is nothing more than a process of deep observation that can only be carried out by those who know and have worked for years predicting trends. 
You May Also Like: 5 reasons to hire an interior designer in the Riviera Maya
The colors chosen by Pantone are colors that obviously already exist and have been timidly making their way into our daily lives. What the color experts do is to give them the place they deserve, paying attention, above all, to the new supports in which they should be applied.
Another determining factor in deciding Pantone's color of the year is the name of the color. Once the shade has been selected, it is time to name it.
This task requires, once again, a process of research to ensure not only that the name does justice to the color and the feelings it should awaken in those who look at it and perceive it, but also that it meets the requirements to function globally. Because Pantone's color of the year is a color for the whole world.